The most whimsical bead & jewelry store in the Tri-Cities!
One-of-a-kind, hand-made jewelry,
made by us!
~ SEPTEMBER IS HILLTRIBE STERLING MONTH AT
GEMS AND WHIMS BEADS AND JEWELRY ~
Unfamiliar with Hilltribe Sterling Silver? It has a much higher purity at .999 as opposed to .925. Though the showing is going on through the entire month of September, many of the pieces are one-of-a-kind and will NOT last long. Better hurry in to be sure you get the best pieces first!
When you think of buying Hilltribe Sterling, remember you are helpiing to sustain a traditional art and craftin the remote area, thus provides the Thai Karen people with a reliable,
steady source of income.
Beginning September 2nd at 10:30 a.m., this is a sterlig show unlike any other ever represented at
Gems and Whims Beads and Jewelry. Be sure NOT to miss this one!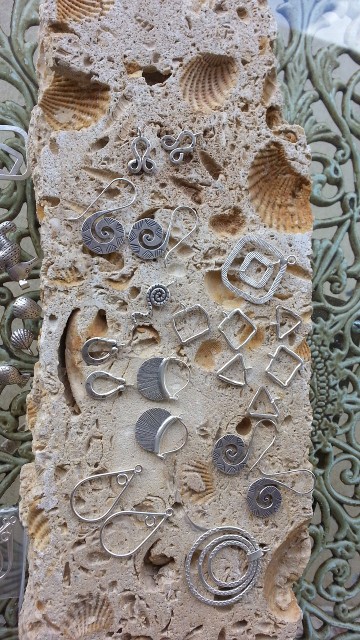 All this and SO much more all through the month of September!
Call or contact us for more information. We SHIP!
Can't wait to see you there!
1904 Knob Creek Rd Suite 4, Johnson City, TN
423.282.1525 OR 423.523.WHIM (9446)
AND jewelry repair of all kinds.
We also carry crystals, agate slabs, boxed fossils and shells, stone candle holders, mobiles, window art, painting, hand-knitted and hand-crocheted items, lighted star lanterns, salt-rock lamps, as well as art and creations by dozens and dozens of local artisans.
A veritable one-stop-shop for all your gift giving needs!
We do all types repairs as well as create custom designs just for you!!
Our AMAZING bead supplier has sent literally hundreds of thousands of new beads you simply MUST come in and see...
1904 Knob Creek Rd. Suite 4, Johnson City, TN 37601
423.282.1525 OR 423.523.WHIM (9446)
Corner of Knob Creek and Sunset Dr.
Landmark Village Shopping Centers,
Across from Mahoney's and behind the Refinery
Next to Cranberries Cafe!